From Discoscratch.com:
These interviews I'm doing are revealing some fantastic information about the roots of the UK Hip Hop scene. Scenes14 started in 1982/1983 and it wasn't long before he was jumping fences at 3 in the morning with a sack of paint on his back. Combined with a love of B Boying and all the elements, Scenes soaked up as much of the fledgling UK Hip Hop sphere as possible. To this day he's still rocking a dope custom graf Jacket & box fresh Puma kicks with the Suspekt crew baseball cap.
We spoke about the early jams and some of the pivotal events in the UK through the years that Scenes has attended. Racking up some 28 years of living Hip Hop, this guy knows his onions, hope you enjoy the show and apology for slightly too loud mics causing some slight distortion, what can you do, we were gonna do it through headphoes to start with!!! Enjoy & big respect to Scenes14, peep his site, The Underground Strikes Back.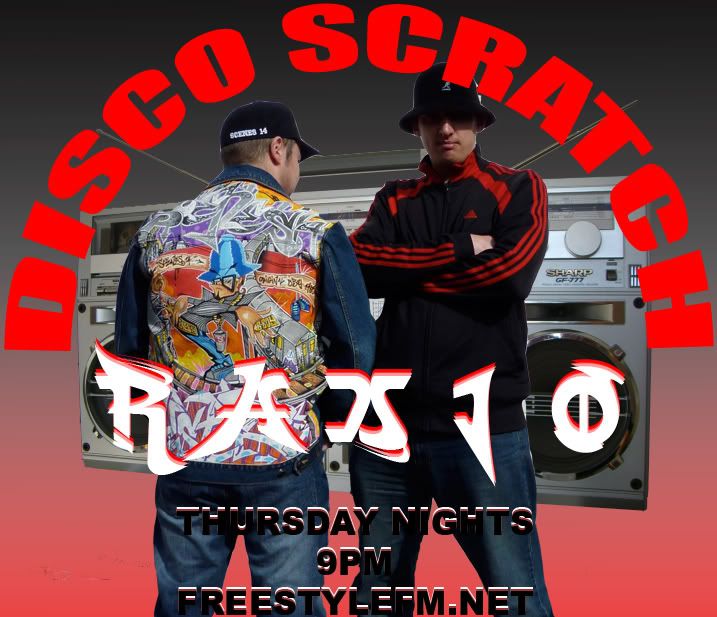 Tracks used during the show:
1.Disco Scratch Intro
2.DuckAlert – Diamond Dust (Instrumental)
3.Kurtis Blow – The Breaks (Instrumental)
4.Mr Magic – Potential (Instrumental)
5.Kool DJ AJ – Ah That's The Joint (Instrumental)
6.Scenes Choice – Twilight 22 – Electric Kingdom
7.Hashim – Al Naayfish (The Soul)
8.Africa Bambaataa & The Soul Sonic Force – Play At Your Own Risk (Instrumental)
9.Africa Bambaataa & The Soul Sonic Force – Planet Rock
10.Warp 9 – Nunk
11.Scenes Choice – Big Apple Productions – Genius At Work
12.Ice T – Tibetan Jam (Instrumental)
13.Wreckin Cru – Surgery (Instrumental)
14.Scenes Choice – Steady B – Fly Shante (Def Mix)
15.3rd Bass – Steppin To The AM (Instrumental)
16.Brand Nubian – Brand Nubiam (Instrumental)
17.Scenes Choice – Bushkilla – 92 Salute
18.Craig G – Shootin The Gift (Remix Dub)
19.EPMD – So Watcha Sayin (Dub)
20.Gang Starr – Manifest (Instrumental)
21.Scenes Choice – Blue Eyes – Soul Tip
22.PE – Bring The Noise (No Noise Instrumental)
23.ce T – Lethal Weapon (Instrumental)
24.Scenes Choice – EPMD – So Watcha Sayin'
25.Big L – Devil's Son (Instrumental)
26.Stezo – To The Max (Dub)
27.Main Source – Think (Instrumental)
28.Scenes Choice – Def Tex – Run
29.Nas – It Ain't Hard To Tell (Large Pro Remix Instrumental)
30.Gang Starr – Dwyck (Instrumental)
31.Craig Mack – Flava In Ya Ear (Remix Instrumental)
32.Scenes Choice – Hijack – I Had To Serve You
http://discoscratch.co.uk/podpress_trac/web/690/0/Disco_Scratch_Radio_4_29.04.2010_Scenes14.mp3